There seems to be a bit of a trend lately, where more and more computer builders are opting for smaller cases. In other words, rather than use a full ATX board and chassis, they are going for micro ATX and mini ITX. While I am sure aesthetics play a part, there is definitely one big benefit -- desk space. A smaller PC should provide the user with more surface room. With that said, they could get even more space by simply putting the computer on, say, the floor or separate table, but I digress.


If you want to truly maximize desk space, why not just use your desk as a chassis? No, I haven't gone mad -- there are actually desks that can double as a computer case. Today, famed case-maker, Lian Li, launches such a product, and it looks amazing. Called "DK-05," it can accommodate two motherboards (up to EATX), allowing the user to fit dual computers into one chassis; this includes two PSUs and eight PCI cards per board. What makes it particularly impressive, however, is that the desk is motorized, meaning the height can be adjusted with the press of a button, turning it into a standing desk when needed. As you can guess, this chassis desk is insanely expensive.

"The DK-05 combines the ergonomics of a motorized desk with an incredibly customizable dual-PC chassis. The desk can be heightened to 118cm for standing work, and down to 69cm desk height for a sitting position. With a gorgeous tempered glass cover, the all-Aluminium DK-05 offers the comforts of a motorized standing desk, trusted Lian Li build quality, and flexibility of two XL-ATX computers in one chassis. The DK-05 features a front Panel HDMI connector for VR Headsets as well as an USB Type-C connector for the latest USB 3.1 enabled devices," says Lian Li.

The case-maker further says, "The DK-05 has two separate front I/O panels with USB 3.1 Type-c, USB 3.0, HDMI and HD-Audio. These allow full control of the PCs inside, or give the flexibility of use only one motherboard tray is used. Additionally, each I/O panel also has RGB adjustment dials to fine-tune optional RGB lighting kits. The right side of the desk also features the height adjustment panel. A height indicator (in cm or inch) manual adjustment (up and down) and programmable buttons for stored height positions to quickly get the desk up to your preferred working level."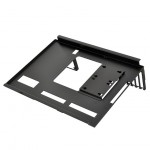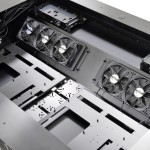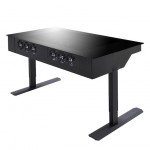 This desk is jaw-droippingly beautiful, and it is clear that its designers put a lot of thought -- and care -- into the product. Seriously, folks, this thing is cool as heck. There is one pesky problem with the chassis, however -- price. It is being sold exclusively at Newegg for a very high $2,100. It is currently showing as discounted to $1989 though.


While $2,100 is certainly a lot of money for most consumers, it actually isn't overpriced. When you factor in the cost of a quality motorized desk and Lian Li's legendary build quality, this should provide a great experience and be worth the cheddar -- if you can afford it, of course.

If you don't need a motorized desk, this is not for you -- obviously. After all, many people don't even spend that much for their PC, let alone just a chassis and desk! If you are a PC builder and have the need for such a desk, however, you may have just met the chassis of your dreams.

What do you think of this impressive desk/chassis combo? Please tell me in the comments below.