Our favorite economy cars of the past all seem to have one thing in common: A simple, cheerful, unfussy design. That's exactly what we love about the Honda Urban EV Concept that debuted today at the Frankfurt Motor Show. And as luck would have it, Honda is committing to bringing a production version of the car to the market soon.
"This is not some vision of the distant future," said Honda Motor Co. President and CEO Takahiro Hachigo at the auto show today. "A production version of this car will be here in Europe in 2019."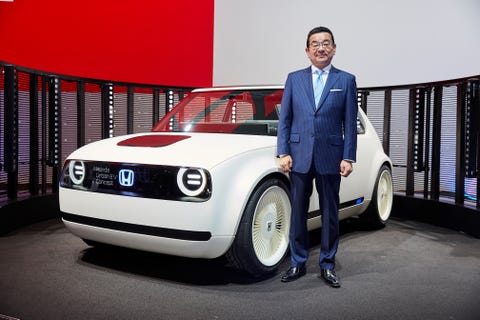 Honda Motor Co. President and CEO Takahiro Hachigo with the Urban EV Concept
HONDA

The Urban EV Concept features the kind of simple yet satisfying styling we've always loved in our favorite hatchbacks. Check out the low, wide proportions, the squared-off hatchback riding on wheels pushed to the very edges of its footprint. Alas, the big-inch wheels with low-profile tires probably won't find their way onto a production Honda EV, but the overall shape and size—100 mm shorter than the current Honda Fit—are dead-on. The concept car is built on a new EV platform showcasing a high-density, lightweight battery pack.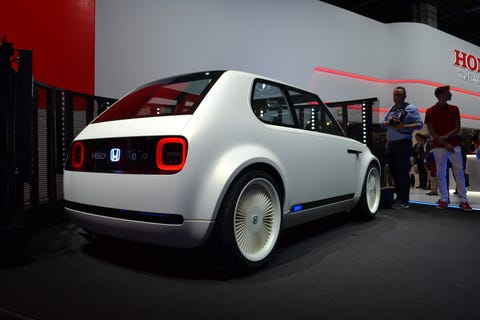 BOB SOROKANICH

While the concept car features plenty of details that likely won't make it to production—like rear-hinged doors, rear-facing cameras in place of side view mirrors, and a wraparound dashboard screen that reaches all the way onto the interior door panels—we dig the traditional economy car signatures, like the bench seats front and rear. Remember bench seats?

Of course, the Urban EV Concept includes lots of show-car ridiculousness, like an onboard artificial-intelligence concierge that "learns from the driver by detecting emotions behind their judgments" to "apply what it has learned from the driver's past decisions to make new choices and recommendations." Don't expect that in your affordable electric city car. But the light-up Honda emblem on the grille? Yeah, that'll stay.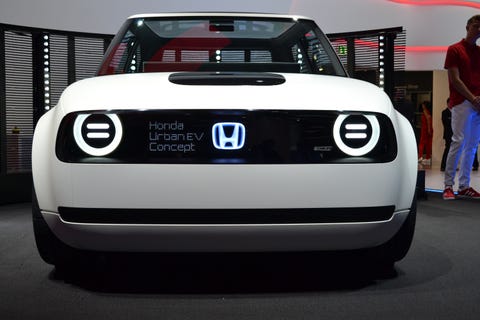 BOB SOROKANICH
We sincerely hope this concept car transforms into a production vehicle with all of its lighthearted, simple charm intact. The world needs more cheap, cheerful hatchback econoboxes.