The method is quite simple and easy and you just need to follow the simple step by step guide that will help you to implement this. So follow the below steps to proceed.
Method To Easily Deauthorize A Computer from iTunes:

#1 The very first step is to open up the iTunes on any computer device and then after that find up the Accounts settings from the interface. Inside the Accounts settings options list you have to click on the Authorizations. This is extremely simple to reach as all the options are straightforward available through the menu bar of the iTunes.
Now as you could guess, this Authorizations option would link to the page that shows all the computers or devices authorized with your device or account. Through there only you will be able to delete the devices or sustain their authorities.

#2 In the above step you would be prompted with the panel asking for the Apple ID and password, just fill the same for your account for which you need to make the amendments. Tap on the deauthorize button on the other prompt that will be asking for your permission so as to remove any of your selected devices from the authorization list.
You can either deauthorize some particular devices one by one or simply remove all of the devices at once. To do so you have to tap on the De-Authorize All option and provide the essentials being asked!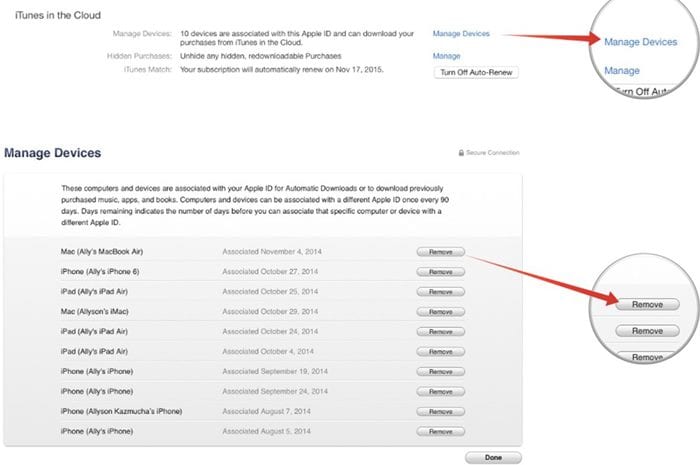 De-Authorize A Computer from iTunes

Finally, you have now got about the method through which you can be able to deauthorize the connected devices from the iTunes and hence make the space for another device to let them attach to it. We have tried to write about the method in the simplest way so that you people can utilize it easily without any issues. Possibly every user can be able to implement this procedure, but yet if some of you have any issues or problems related to the application of the method then they can grab our help and support.
For availing our support you must paste your issues inside the comments section and we will try our best to respond you fast. Further, we would say please share this article with more and more people, and do share your opinions regarding the information in this article through the comments box!