Because time is precious, fully electric cars are unlikely to become the primary vehicles for most households until they can be recharged in the time it takes to fuel up a conventional vehicle at a service station. While fast-charging stations are one approach to get there—and that technology
is advancing rapidly
—there is one other way to do it: battery swapping. A
patent filing
posted in September suggests that Tesla, despite the rapid expansion of its
Supercharger fast-charging network
, is still considering that option, too.
Before Tesla tested battery swapping, a startup called Better Place attempted to build a subscription-based battery-swapping business model that some likened to buying air time for a cellphone. Using a proprietary system, the company could swap out a nearly dead battery for a fresh one in just a couple of minutes. Better Place was well backed, but it failed when it couldn't afford the
massive upfront infrastructure costs
of its own scheme.
Tesla designed its Model S to be compatible with a similar battery-swap system—boasting a fresh, fully charged battery in as little as 90 seconds—and in 2014 established a
limited pilot program
using a test station at Harris Ranch, California, the site of a busy Supercharger station and effectively at the midpoint between Los Angeles and the Bay Area. That test ceased in 2015 amid controversy over the additional California ZEV-credit revenue the company was earning for the program—although Tesla then
cited a lack of demand
for the service.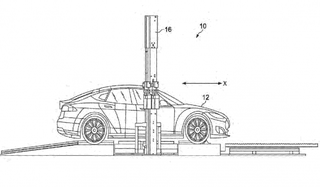 CAR AND DRIVER



These latest documents, filed in May, include a mobile rig with a proposed electrical energy storage system (EESS) that could be built on top of a custom-built trailer. It would first properly align the vehicle, then employ a lift, which would potentially employ systems of rollers and arms to allow an entire battery unit to be accessed and replaced with a different one. The process would still rely on one or two attendants.






A Tesla spokesperson declined comment on the new battery-swap filing, so at this point it's all conjecture as to whether the company has a new plan, and, if it does, why it's once again exploring the tech. The detailed description of the system notes that in some cases battery-swapping stations could be located along a remote highway between two cities, so the system could make sense in places where local utilities or municipalities are apprehensive about the power demands of a fast-charging station. Or swapping could perhaps serve as a backup during natural disasters with long-term power outages, allowing customers to get a much-needed charge in a pinch.







From:

Car and Driver