Lexus can't lean on motorsports heritage to sell its F-branded performance cars, but now that 10 years have passed since the first one went on sale, it is marking the occasion with RC F and GS F anniversary editions. Consider them a tribute to naturally aspirated V-8s and rear-wheel drive.


The matte-gray RC F and GS F pictured here will be sold as the F 10th Anniversary in Japan and limited to 500 total, and they celebrate all the big-bore, fat-tired Lexus models since the first IS F launched in 2007. That compact sedan surprised everyone, and despite never seriously challenging the BMW M3 or Mercedes C63 AMG during its seven-year model run, the IS F proved Lexus could unbutton its collar and cut loose.

The GS F comes with gloss-black wheels, blue brake calipers, and a carbon-fiber body kit (rear valance, decklid, and chin spoiler). Inside, Lexus chose a blueberry Toaster Strudel theme: the blue leather seats feature a thick, white stripe, while the blue steering wheel's 12-o'clock rim marking also is white. More blue leather adorns the shifter, the dash pad, and the rear-seat headrests and bolsters. The seatbelts are blue, as is the microsuede that wraps the instrument panel. That same material (in black) covers the armrests and a mesmerizing headliner, which has a similar origami-inspired pattern to the one found in the 2018 LS.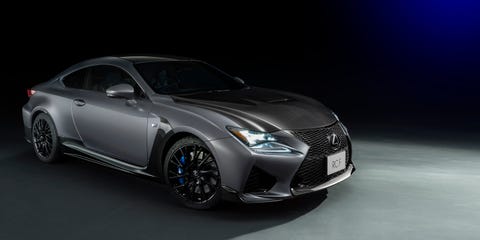 LEXUS

The RC F largely follows suit, although its mix of matte-painted and glossy carbon-fiber panels gives it a cobbled-together appearance. The limited-edition coupe keeps the blue, white, and black colors inside, but unlike in the GS F, the rear seat and associated seatbelts are entirely black. Both RC F and GS F models receive their own blue woven-carbon-fiber trim patterns.

While there are no engine mods to either car, Lexus fits upgraded dampers and a titanium exhaust that should render the company's synthetic Active Sound Control superfluous. When we last tested a GS F, we turned off that feature and let the 467-hp 5.0-liter V8 sing to the 7300-rpm redline as its Yamaha engineers intended.


Lexus hasn't said whether it will import any of the anniversary cars to the United States. But with the industry shifting to turbochargers and all-wheel drive, the real concern is that high-revving F models like these are unlikely to survive the next 10 years.

From: Car and Driver